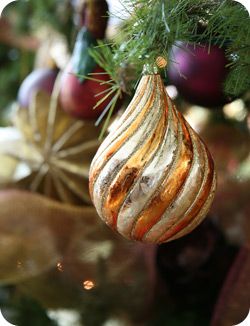 So here you are. It's boxing day and you have a whole fridge filled with leftovers. What to do . . . what to do . . .
I thought I would give you some tasty ideas this morning to help you use up some of those scrummy leftovers. Of course you could just have a reheat of the leftovers, but it's also nice to dress them up in a few different ways too!

Ham Leftovers: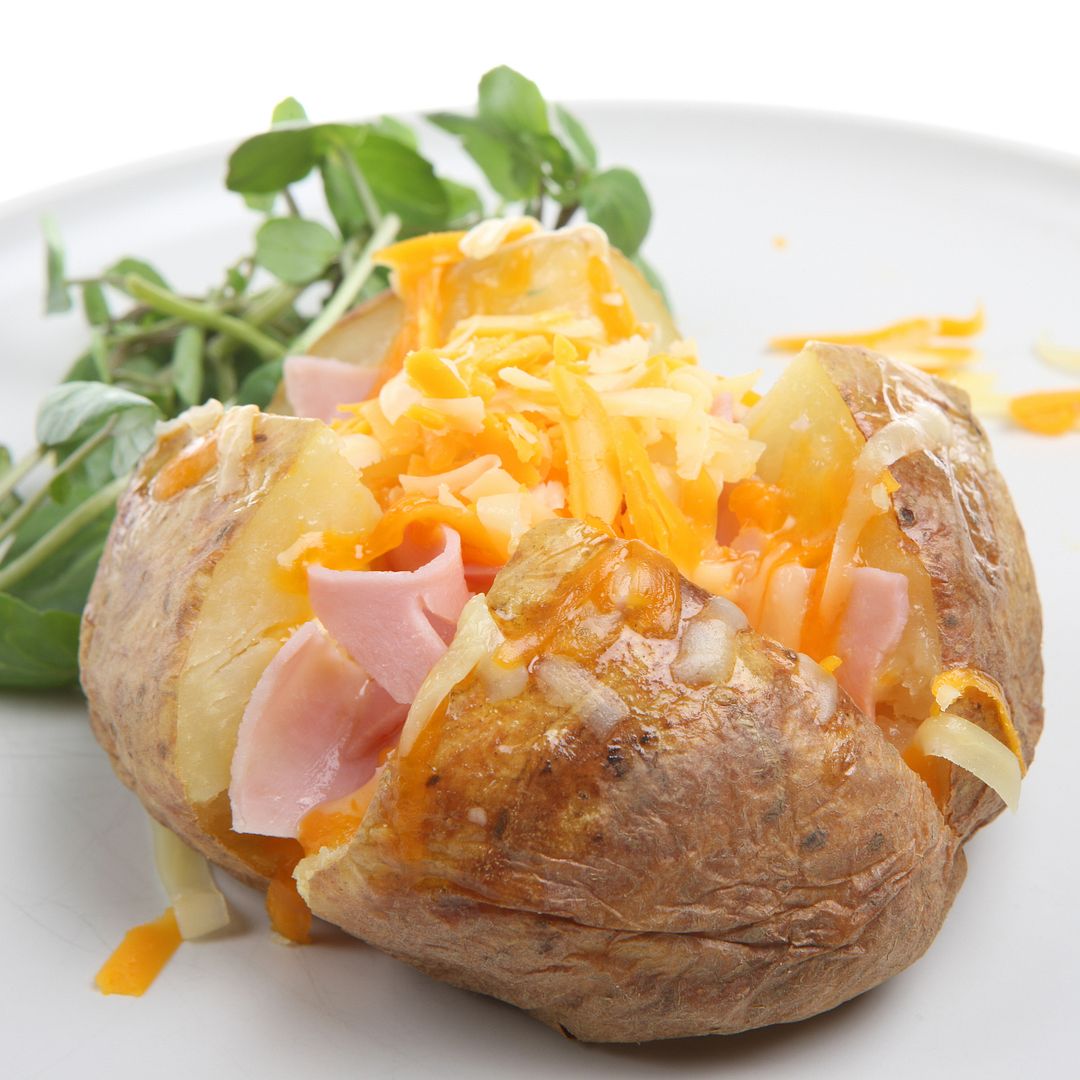 We like to have ham, cut into thick slices and fried in butter along side of our fried eggs for a special boxing day breakfast. Just melt some butter and add the ham once it begins to sizzle. Cook until it begins to get crisp on the edges, flip over and repeat on the other side.
You can chop it up and add it to your favourite macaroni and cheese recipe, or to a pan of scallopped potatoes.
Combine it with some of the leftover turkey, and some of that Stilton in a tasty salad!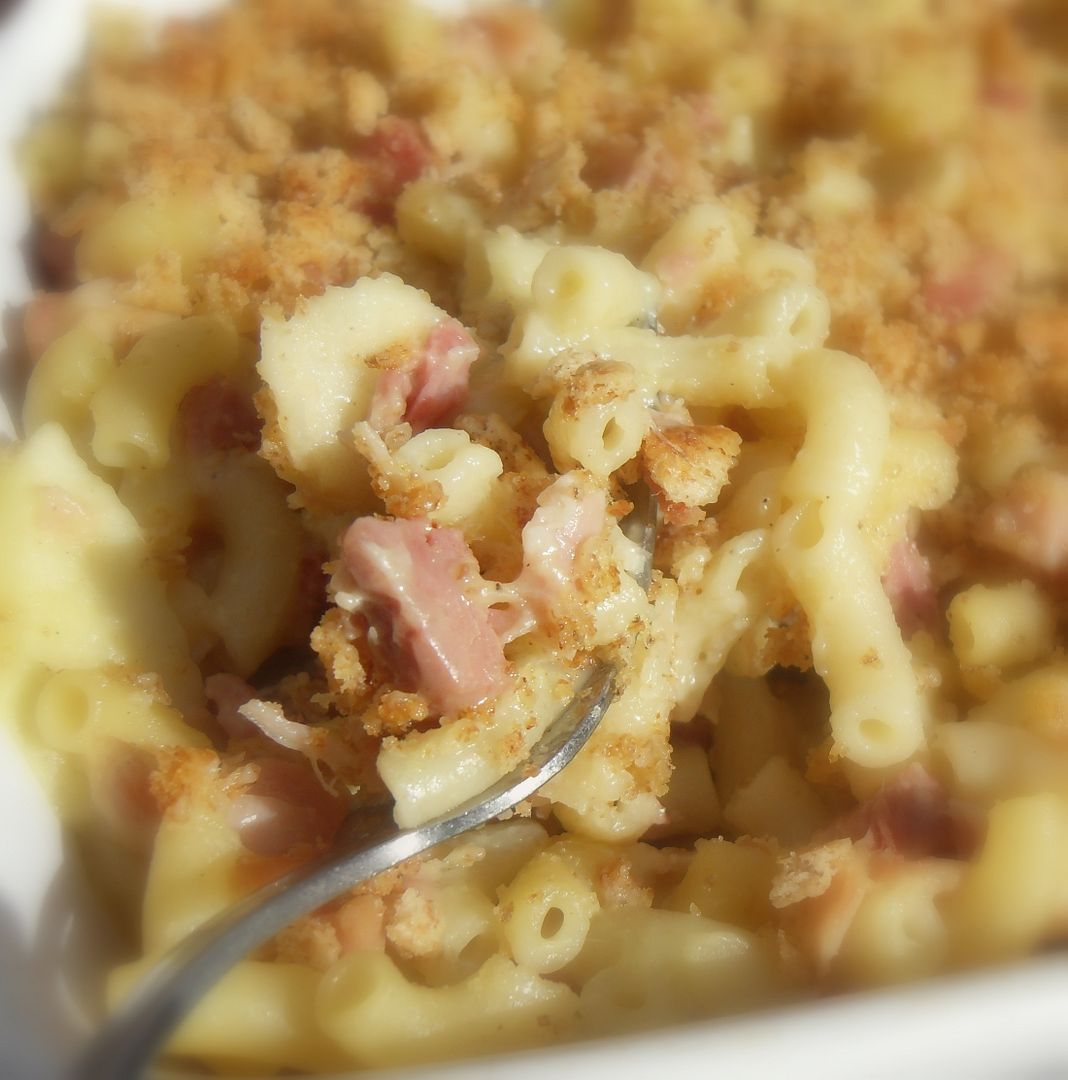 *Ham and Mac Bake*
Serves 4 to 6
Printable Recipe
This is a wonderful casserole that is not only very tasty, but also very easy on the budget as well. My children always loved it when they were growing up and it was something different to do with the ham that was leftover from Easter. I often buy a slap of ham at the shops so that I can make this as well.
1/2 pound of macaroni (1 2/3 cups)
1/4 cup butter (2 ounces)
1/4 cup flour (1.5 ounces)
2 TBS Dijon mustard
salt to taste
1/4 tsp pepper
2 cups milk (5ooml)
2 TBS soft light brown sugar, packed
2 cups cubed, fully cooked ham (about half a pound)
2 medium eating apples, peeled and thinly sliced (about 2 cups)
1 cup soft bread crumbs (about 1 1/4 slices)
2 TBS butter melted
Cook the macaroni in lightly salted boiling water until done, according to the packet directions. Drain well, rinse with cold water and drain again. Set aside until needed.
Preheat the oven to 180*C/350*F/ Gas mark 4. Melt the 1/4 cup of butter in a saucepan. Whisk in the flour and cook, stirring, for one minute over low heat. Blend in the mustard, salt, pepper and sugar. In the meantime bring the milk just to the boil. (Just until bubbles appear around the edges) Slowly whisk the heated milk into the flour mixture, cooking and stirring it until thickened, smooth and bubbly. Stir in the cooked macaroni, ham and apple slices. Turn into a greased 2 litre casserole dish.
Toss the bread crumbs with the 2 TBS butter and sprinkle evenly over top of the casserole. Bake for 30 to 35 minutes or until bubbly and lightly browned on top.
*Boxing Day Salad*
Serves 4
Printable Recipe
100g bag of baby leaf salad greens (about 4 cups)
1 head of red chicory
1 TBS extra virgin olive oil
100g of cooked turkey (1/4 pound)
100g of cooked ham (1/4 pound)
50g chopped toasted walnut pieces (1/4 cup)
2 ounces stilton cheese, crumbled
4 TBS reduced fat caesar salad dressing
Place the salad greens in a large shallow bowl. Break up the red chicory leaves and toss into the bowl. Drizzle with the olive oil Tear the turkey and ham into bits with two forks. combine in a bowl along with the walnut pieces and stilton cheese. Add the salad dressing and mix to combine. Pile this mixture on top of the salad leaves and serve.
It's delicious chopped and mixed with grated cheese and then stuffed into a nice big fluffy baked potato.

Turkey Leftovers: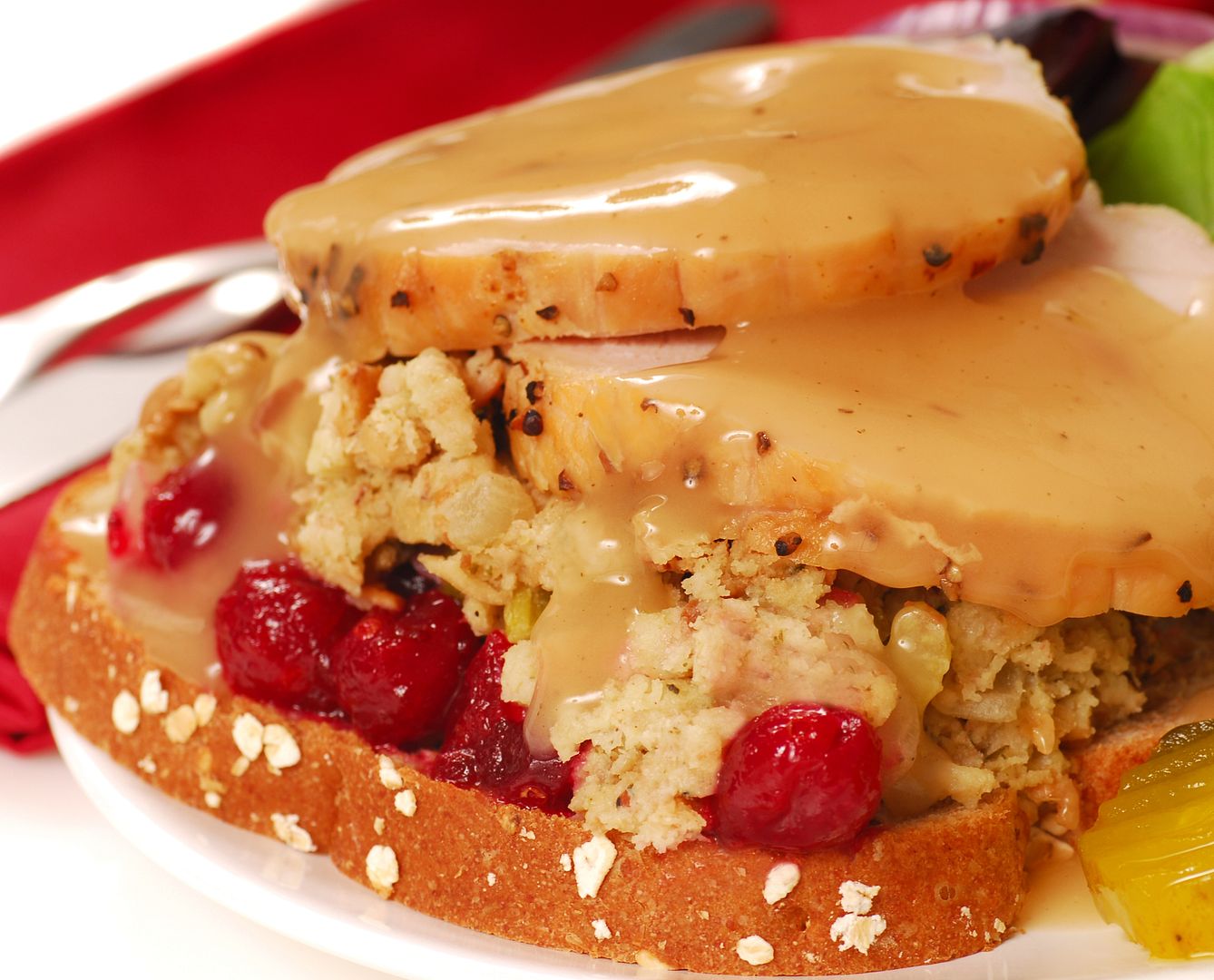 Of course you can have a plain old turkey sandwich, but why not dress it up a bit and serve it open faced on a rustic piece of bread, topped with some leftover cranberry sauce, some of the leftover stuffing heated and crumbled on top of the cranberry, then the heated sliced turkey and some heated leftover gravy ladled over top. Delicious with a few sliced pickles and some potato crisps on the side!
My mom always made Turkey Pot pies, or Beef Pot pies. We loved them! You can follow the roughly outlined recipe below, which is only a rough guideline of what to do. You can adapt it to whatever it is you have in your fridge. If you are using beef, then use the leftover beef gravy of course!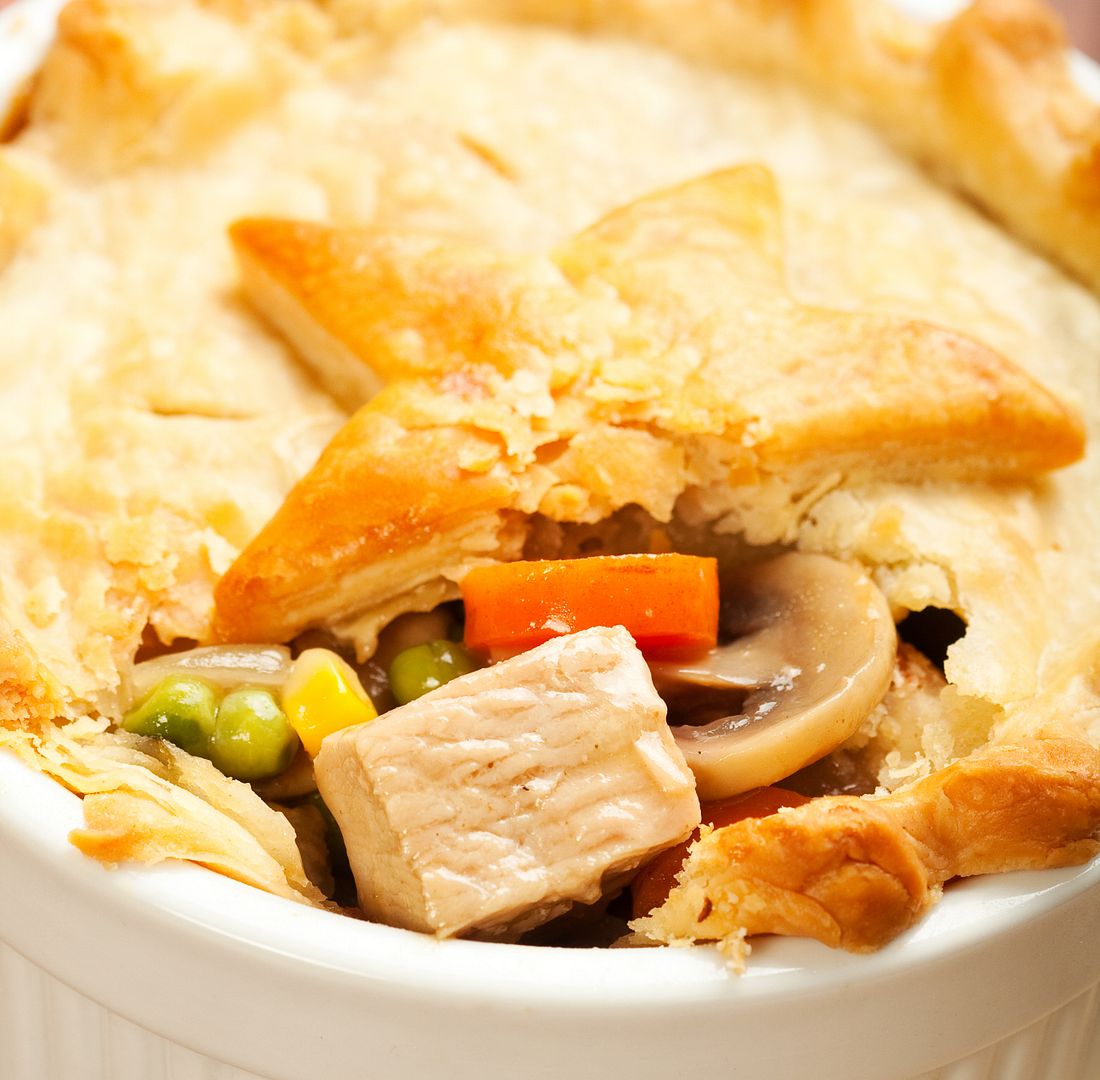 *Turkey Pot Pie*
Serves 4 to 6
Printable Recipe
2 mugs full of leftover turkey, chopped
2 mugs full of leftover cooked vegetables, chopped
(peas, carrots, corn) If you haven't got any, then you can
use 2 mugs of frozen mixed vegetables, thawed
a handful of roasted potatoes, chopped
1 mug full of leftover turkey gravy
1 mug full of milk
1 small onion, peeled and chopped
1 tsp summer savoury
salt and black pepper to taste
Pastry to cover
milk and beaten egg yolk
Mix together all the ingredients except for the pastry in a large bowl, seasoning to taste with salt and black pepper. Spread into a large round, or oval shallow casserole dish. Roll out your pastry to cover and place over top, venting to allow steam to escape. Brush with a bit of milk and beaten egg yolk. Bake for about 35 to 40 minutes in an oven which has been preheated to 200*C/400*F/ gas mark 6. Serve warm.
I think one of the most popular things to do over here in the UK with the leftover turkey is to make a Turkey Curry, but how about Coronation Turkey Salad! Yummo!!
*Coronation Turkey*
Serves 4
Printable Recipe
1/2 onion, peeled and chopped
1 clove of garlic, peeled and minced
1/2 TBS vegetable oil
1 TBS curry powder
1/2 tsp each ground cumin, ground coriander and ground turmeric
125ml of coconut milk (1/2 cup)
125ml of chicken stock (1/2 cup)
200g of mayonnaise (about 1 cup)
425g of leftover turkey (1 pound)
2 TBS dessicated coconut, toasted in a dry pan until golden brown, then cooled
fresh coriander leaves to garnisn (optional)
Fry the onion and garlic in the oil, until lightly browned. Mix in the spices and let them sizzle for about a minute. Add the coconut milk and chicken stock. Let simmer for about 20 minutes over low heat until the mixture has reduced and you have a thick, creamy, spicy onion mixture in the pan. Allow to cool completely. Whisk in the mayonnaise. Cut the leftover turkey into cubes and place in a large bowl. Pour the curry mayonnaise over top and toss to mix. Sprinkle with the toasted coconut, and garnish with a few torn coriander leaves.
Serve with warmed Chapattis, sliced tomatoes, sliced onion and torn lettuce.
This recipe below calls for leftover cooked chicken and stuffing, but it is equally as good with leftover turkey!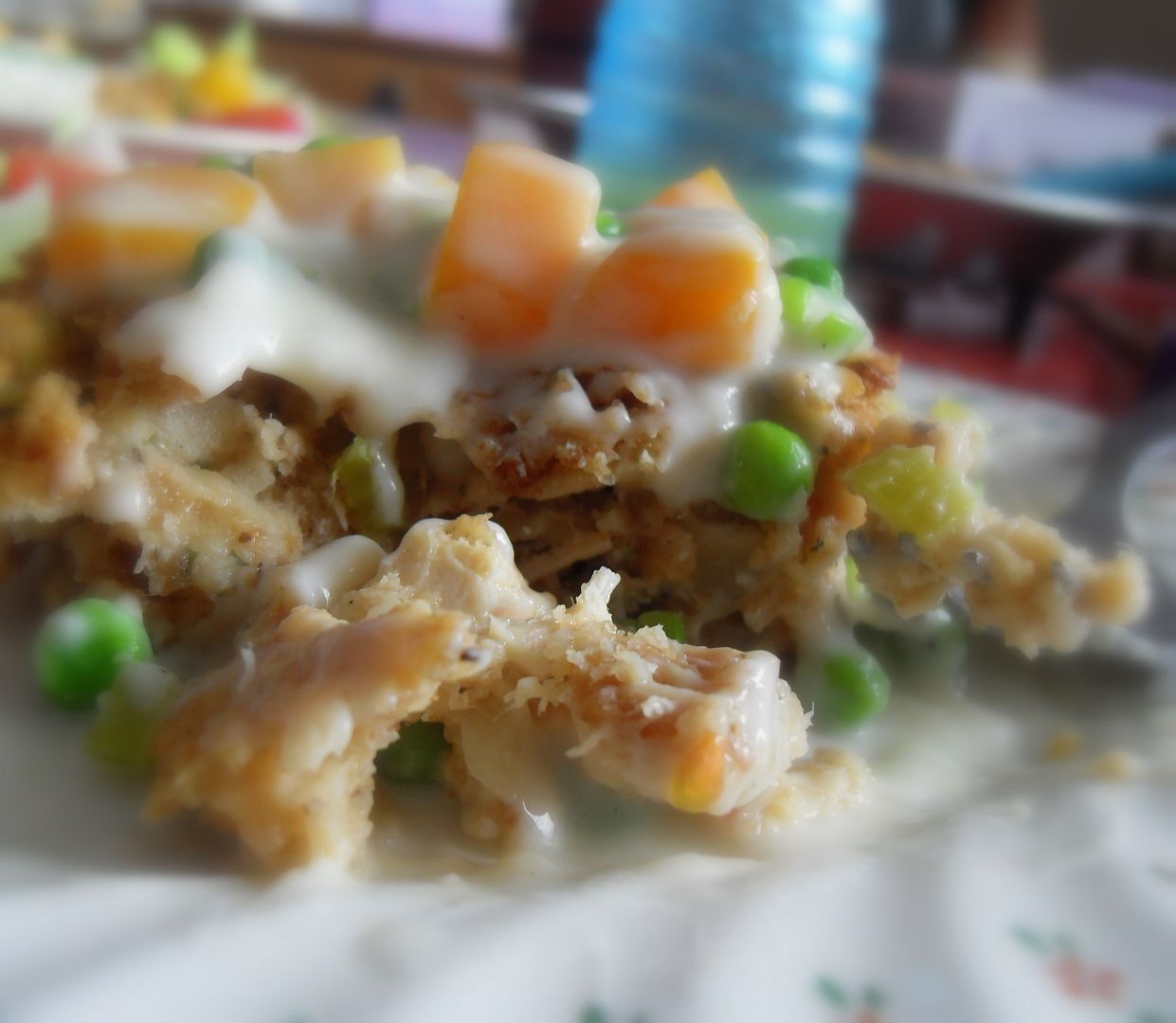 *Chicken and Stuffing Pie*
Serves 4
Printable Recipe
This may not look like much, but this is absolutly delicious!
2 celery ribs, trimmed and chopped
1 small onion, peeled and chopped
2 TBS butter
8 ounces stuffing crumbs, or crushed croutons (2 cups)
1/2 tsp rubbed sage
1/4 tsp thyme
1/4 tsp marjoram
pinch ground nutmeg
1 TBS parsley flakes
salt and black pepper to taste
1 large free range egg, beaten
375ml of warm chicken broth (1 1/2 cups)
2 cups of chopped cooked chicken
To serve:
Creamed peas and carrots (optional)
Melt the butter in a frying pan. Add the onion and celery. Saute without colouring until soft, stirring frequently. Set aside to cool.
Preheat the oven to 180*C/350*F/ gas mark 4. Butter a 9 inch pie dish. Set aside.
Tip the bread crumbs into a bowl along with the sage, thyme, marjoram, nutmeg and parsley flakes. Mix together well. Stir in the broth, beaten egg and sauteed vegetables. Season to taste with salt and pepper. Stir in the chicken. Mix well. Spread this mixture into the buttered pie dish.
Bake for 30 to 35 minutes, until set and lightly browned.
Serve cut into wedges along with some creamed peas and carrots spooned over top if desired. A tossed salad goes very well with this.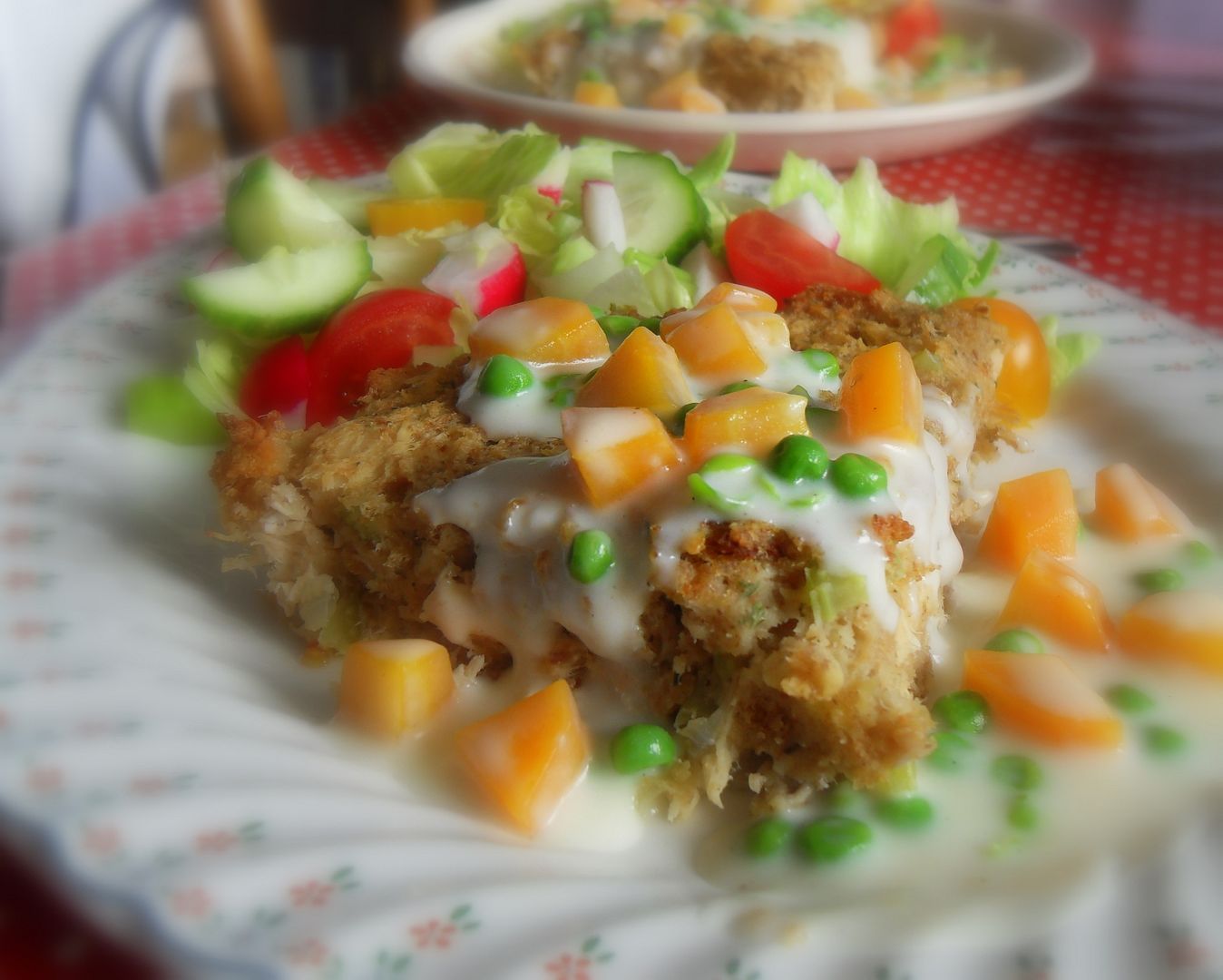 *Creamed Peas and Carrots*
Serves 4
Printable recipe
Delicous served over crackers, biscuits, toast, fish cakes or my tasty Chicken Stuffing Pie.
2 TBS butter
2 TBS plain flour
1 pint of milk
salt and pepper to taste
cooked peas and carrots to taste
(I like a larger ratio of sauce to veg, but some people like more veg than sauce)
Melt the butter in a saucepan. Whisk in the flour. Slowly whisk in the milk. Cook over medium heat, whisking constantly until thickened. Reduce the heat to low and allow to simmer for about five minutes. Season to taste with salt and pepper. Stir in the vegetables and heat through.
Deliciously different Barbequed Turkey Pizza, with a tangy barbeque cranberry sauced base!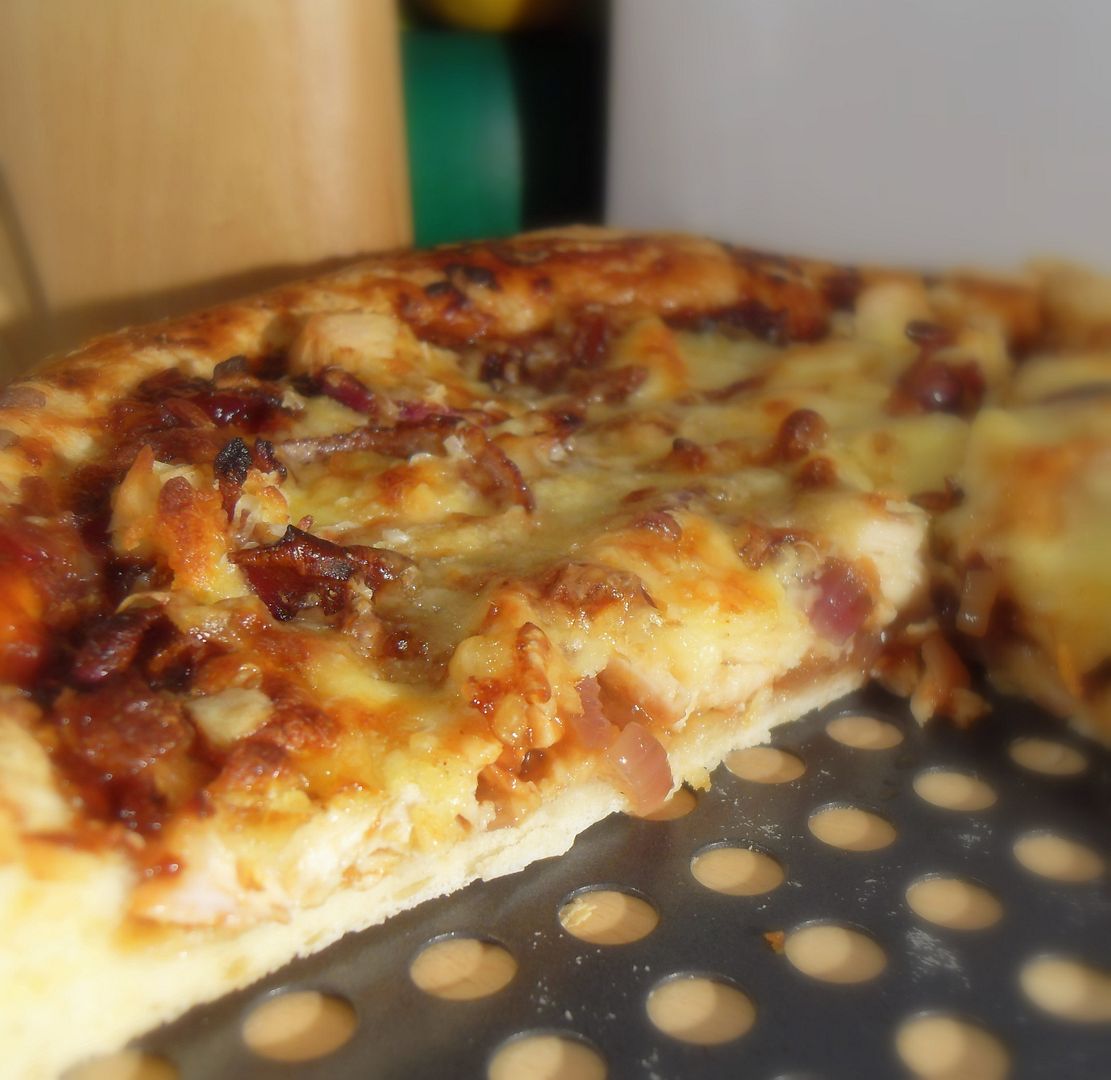 *Barbequed Turkey Pizza*
Makes 1 (12 inch) pizza
Printable Recipe
A delicious pizza that is perfect for using up some more of that leftover Christmas Turkey!
For the dough:
250ml warm water ( 1 cup)
2 TBS olive oil
1 TBS sugar
1 tsp salt
2 tsp active dry yeast
13 ounced white bread flour ( 3 cups)
For the caramelized onions:
2 red onions, peeled and thinly sliced
a glug of olive oil
seasalt and freshly ground black pepper
1 TBS balsamic vinegar
For the sauce:
4 fluid ounces of barbeque sauce
a dessertspoon of whole berry cranberry sauce
To Top:
8 ounces cubed cooked turkey breast (1/2 pound)
8 ounces mixed grated cheeses (mozzarella, gouda and cheddar)
2 ounces freshly grated Parmesan cheese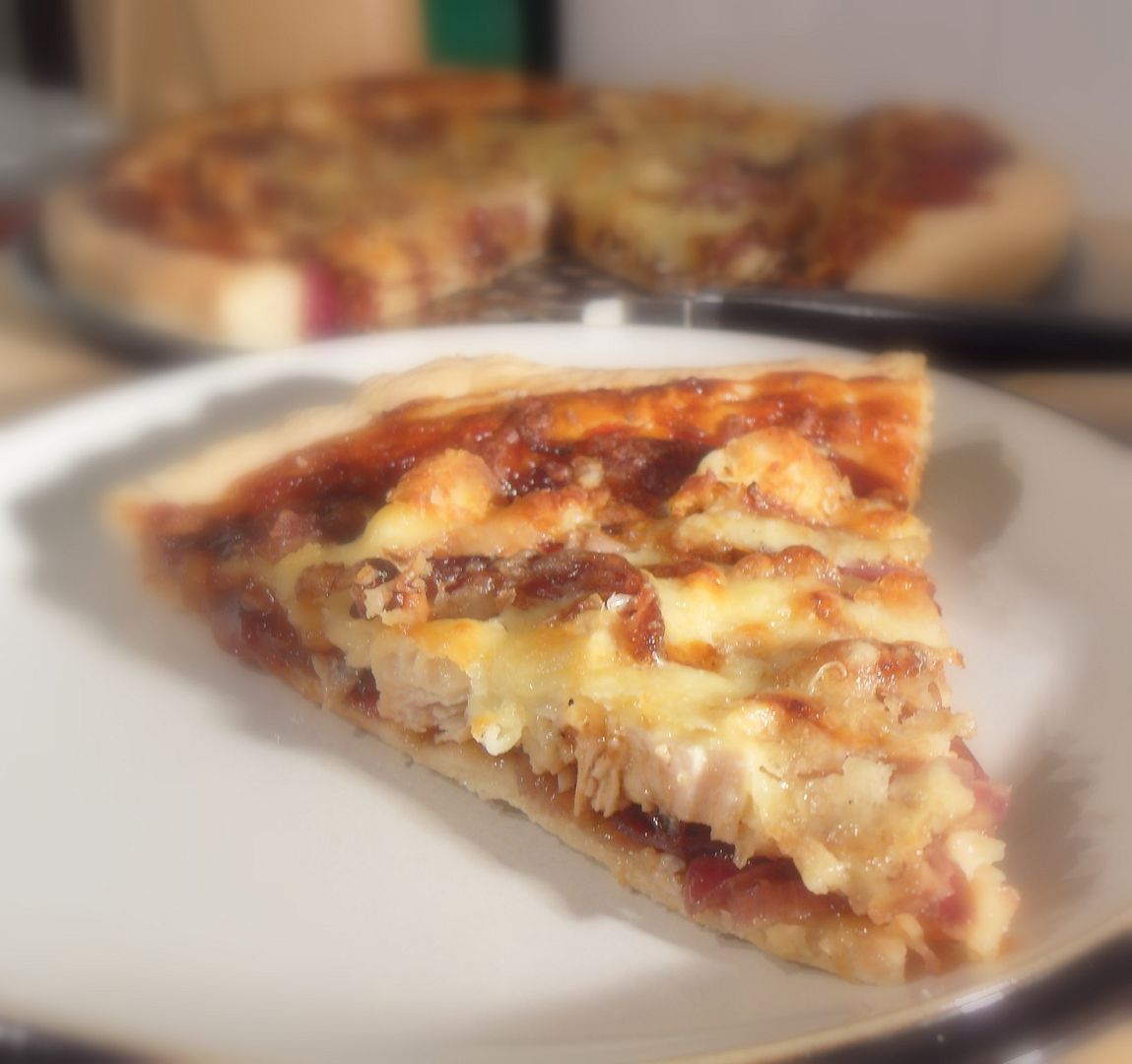 Put the dough ingredients into your automatic breadmaker according to the directions for your particular breadmaker, following the dough cycle. In the meantime heat a bit of oil in a frying pan. Add the onions. Cook and stir over medium heat until they begin to wilt. Add some seasoning and the balsamic vinegar. Turn the heat to low and cook, stirring occasionally until golden and caramelized. Set aside to cool.
Once the dough cycle has completed on your machine, remove the dogh and punch down. Let rest for 10 minutes. Roll the dough out to fit into your pizza pan leaving a bit of an overhang. Butter the pan with some white vegetable shortening. Sprinkle with some fine polenta or cornmeal if desired. Place the crust in the pan, and fold the edge over to make a lip. Stir together the barbecue sauce and cranberry sauce. Spread over the top of the crust. Top with the caramelized onions and chopped turkey breast. Sprinkle with the cheeses and Parmesan.
Preheat the oven to 200*C/400*F/ gas mark 5. Bake the pizza on the bottom rack of the oven for about 15 minutes, then move it to the top rack and bake for 10 to 15 minutes longer until the crust is golden brown and the filling is bubbling. remove from the oven and allow to rest for about 10 minutes before cutting into wedges to serve.
Optional Topping additions:
Slivered green peppers
sweetcorn kernels
sliced mushrooms
chopped roasted green chillies
Leftover Roast Beef??
A tasty Cottage Pie with a Potato and Parsnip Mash Topping fits the bill perfectly!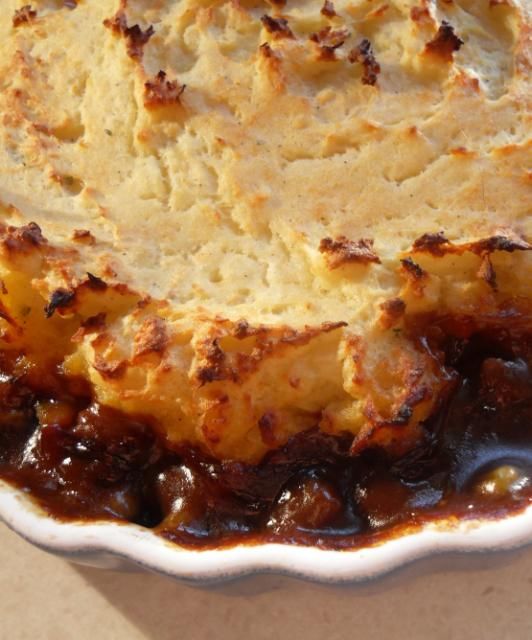 *Cottage Pie with Potato and Parsnip Mash Topping*
Serves 4
Printable Recipe
This is a delicious way of using up some of the leftovers from your Sunday Lunch. You can make this with fresh ground beef of course, but we love it made with chopped leftover roast beef. I also like to use any leftover cooked vegetables in the filling as well. Usually it's just peas and carrots, but sometimes there is some swede as well. Just make sure you chop your cooked carrots and or swede into roughly the same size as the peas. French beans chopped are also nice. You can use leftover gravy if you wish, but I normally don't have any leftover so have made my own sauce.
2 large baking potatoes, peeled and cut into chunks
3 large parsnips, peeled and cut into coins
1 spring of thyme
a knob of butter and a splash of milk
salt and pepper to taste
For the filling:
2 cups chopped leftover cooked roast beef
1 cup leftover cooked vegetables, chopped into small bits
2 medium onion, peeled and chopped
1 clove of garlic, peeled and crushed
2 TBS plain flour
4 cups boiling water
3 to 4 beef bouillion cubes
1 tsp worcestershire sauce
1 heaped dessert spoon of tomato ketchup
1 TBS horseradish sauce
Salt and black pepper to taste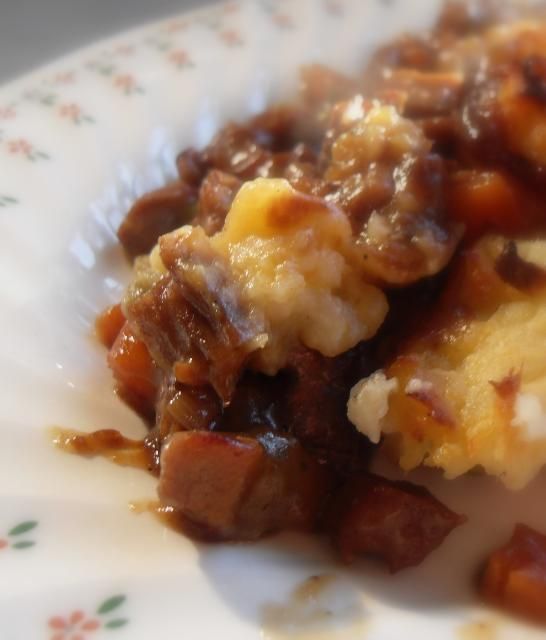 Place the potatoes, parsnips and thyme into a saucepan of slightly salted water. Bring to the boil. Cook until the potatoes are soft, then drain well, discarding the stem from the thyme. Mash well, adding a knob of butter and some milk. Season to taste with salt and pepper. Set aside.
Place the leftover roast and onions in a large skillet, with any beef drippings that you may have. If not you may need to use a bit of oil. Cook and stir until the onions are softened. Stir in the garlic and cook for a further minute or so until fragrant. Sprinkle with the flour and stir it in. Stir in the boiling water until the sauce thickens. Crumble the bouillion cubes in, stirring until they are completely melted. You may need the full 4 depending on how much of a beefy flavour you want. Stir in the worcestershire sauce, ketchup and horseradish sauce. Mix all in well. Season to taste with some salt and pepper. Pour this mixture into a shallow baking dish.
Spoon the parsnip mash over top in a rustic manner.
Bang into a pre-heated 200*C/400*F oven and bake until the filling is bubbling and the mash is beginning to brown. Remove from the oven and allow to sit for 5 minutes or so before serving. Delicious!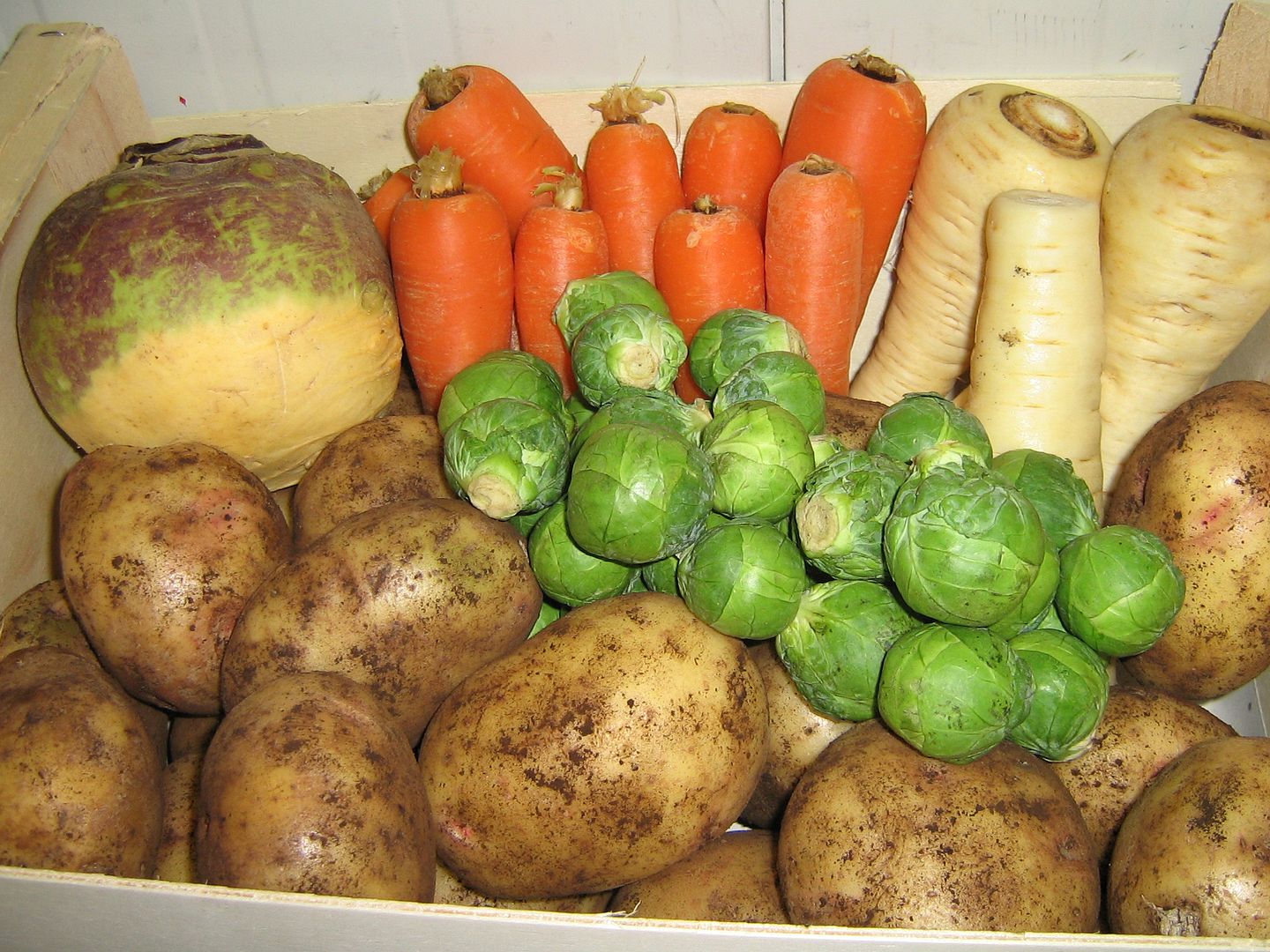 Leftover Vegetables:
We can't be forgetting the leftover Christmas Veg!! I know we all buy in far more than we need, and then end up with it hanging about the fridge. Here's a few different recipes for some dishes using some of that leftover veg so it doesn't get all wilted and go to waste!
*Spicy Parsnip and Sprout Hash*
Serves 4
Printable Recipe
800g of parsnips, peeled and chopped into chunks (1 1/2 pounds)
300g of brussels sprouts, peeled and finely shredded (1/2 pound)
a large handful of frozen peas
the juice of 1/2 lemon
50g of butter (1/4 cup)
1 TBS cumin seeds
1 TBS garam masala
1 red chili, deseeded and chopped
1 bunch of coriander, chopped (reserve a few leaves to garnish)
salt
Place the parsnips in a pan of cold water to cover. Add a pinch of turmeric and salt and bring to the boil. cook for 12 minutes. While the parsnips are cooking, blanch the sprouts in another pan of boiling water for about 3 minutes, until tender, adding the peas for the final minute. Drain all the vegetables well. Tip the drained parsnips back into the pan along with the lemon juice and half the butter. Mash roughly. Beat in the cooked sprouts, peas, cumin, garam masala, chili and coriander. Season to taste with some salt.
Heat the remaining butter in a medium sized non-stick skillet. When it begins to sizzle, tip in the parsnip mixture, pressing it down to form a flat cake. Cook, until it is browned underneat. Turn over carefully with a fish slice. (It may break up but that's ok) Continue cooking until crisp on this side as well. Keep flipping and turning until you have a nicely crisped cake. Slice out onto a heated plate. Garnish with the coriander leaves. Cut into wedges to serve.
*Roast Vegetables with Stilton and Chestnuts*
Serves 4
Printable Recipe
3 TBS French Walnut oil
4 large parsnips, peeled and quartered lengthwise
4 large red potatoes, peeled and cut lengthwise into 6 wedges
4 large carrots, peeled and halved lengthwise
2 large onions, peeled and cut into wedges
200g pack of peeled and ready to use chestnuts (1 cup)
(roughly chop)
the juice of one lime
sea sald and freshly ground black pepper
200g Creamy Blue Stilton cheese, crumbled (1/4 pound)
Preheat the oven to 200*C/400*F/ gas mark6. Place 2 TBS of the oil in a large roasting tin and heat in the oven for 5 minutes. Toss iin the prepared vegetables, giving them a stir to coat with the oil. Roast for one hour until tender, turning occasionally.Mix in the chopped chestnuts and cook for a further 10 minutes. Whisk together the lime juice, remaining TBS of oil and a bit of seasoning. Divide the roasted vegetables between 4 heated serving plates. Scatter with the crumbled stilton and drizzle with the lime dressing. Serve immediately.

Leftover mincemeat and cranberries???
Why not a delicious Spicy Cranberry, Mincemeat and Almond Eve's Pudding!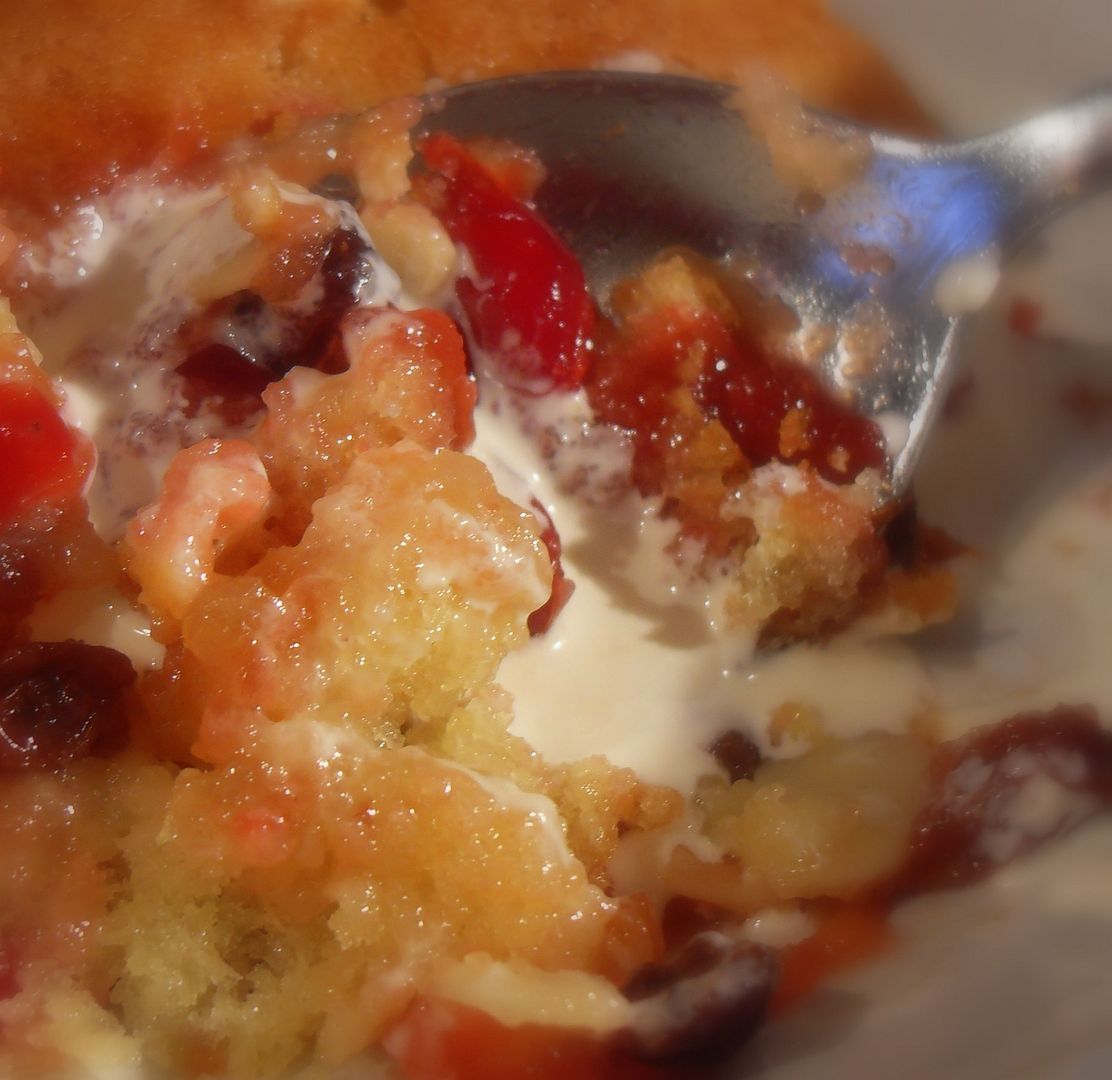 Spicy Cranberry, Mincemeat and Almond Eve's Pudding*
Serves 4 to 6 depending on appetites
Printable Recipe
The perfect way to use up that half eaten jar of mincemeat lanquishing in the back of your refrigerator!
1 large cooking apple, peeled, cored and chopped
2 TBS water
200g of mincemeat (a generous cup)
100g of cranberries, frozen or fresh (1 cup)
100g of butter (7/8 cup)
100g of golden caster sugar (1/2 cup)
2 large eggs, beaten
75g of self raising flour (2/3 cup)
25g of ground almonds (1/3 cup)
a small handful of flaked toasted almonds
Cream to serve
Preheat the oven to 180*C/350*F/ gas mark 4. Have ready a shallow 11 by 7 baking dish. Set aside.
Place the apple in a pot with the water. Bring to the boil, then reduce to a low simmer, cover and cook for about 5 minutes until softened. Stir in the mincemeat and cranberries. Pour into the baking dish, leveling out.
Cream together the butter and sugar until light and fluffy. Beat in the eggs, one at a time. Sift in the flour and stir in along with the almonds. Spread this mixture over top of the fruit in the baking dish. Level off and then sprinkle with the flaked almonds.
Bake for 30 to 35 minutes, until the topping is well risen and golden brown, and the fruit is bubbling beneath. Allow to cool for 10 to 15 minutes then, serve warm with some pouring cream. Delicious!
Leftover Christmas Pudding?
How about a Christmas Pudding Trifle!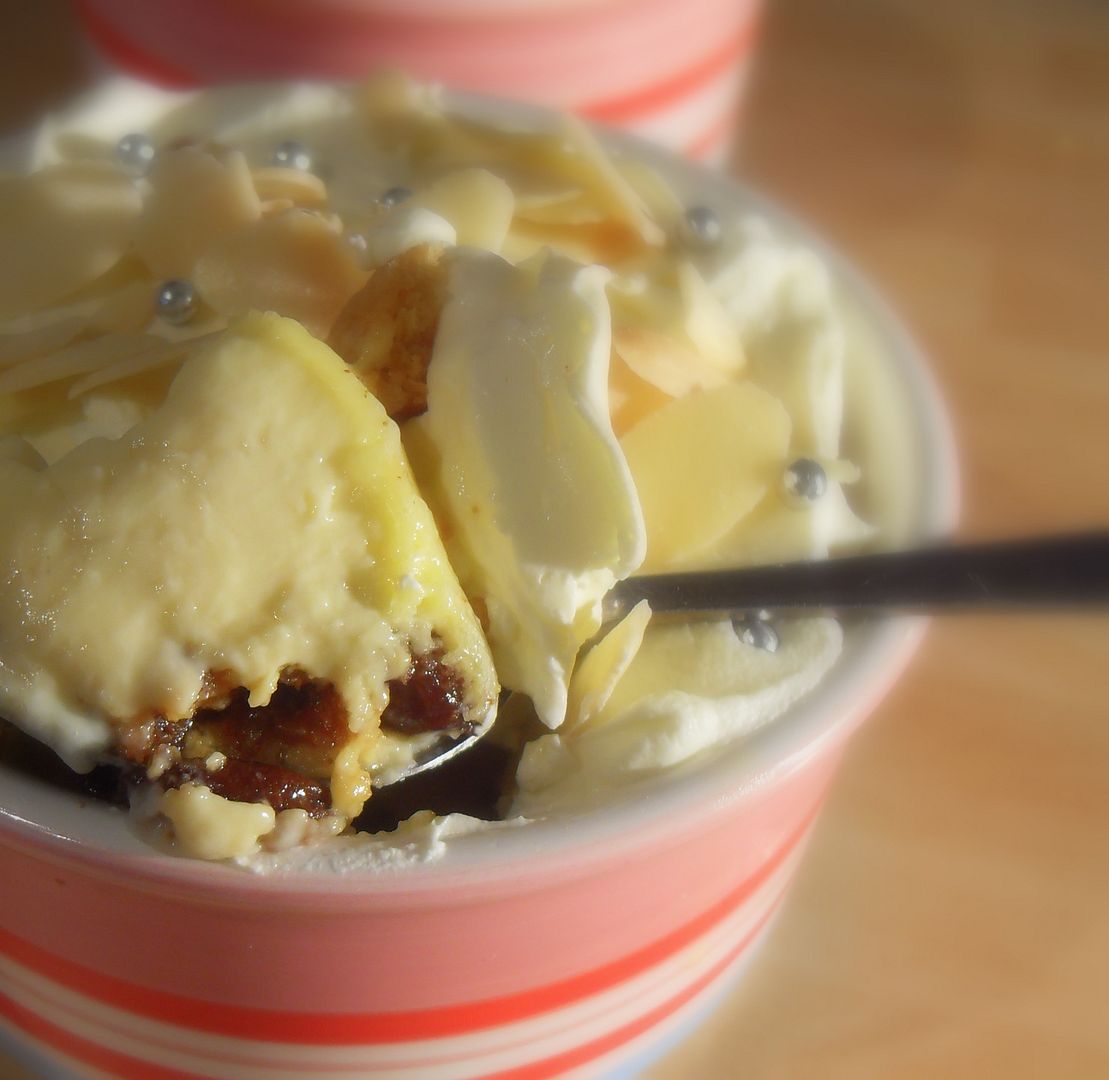 *Christmas Pudding Trifle*
Serves 6
Printable Recipe
A delicious trifle which consists of a lovely rich custard baked over top of some crumbled Christmas pudding until wobbly. Chilled and then covered with amaretti biscuits, brandy cream, flaked almonds and silver balls, this is probably one of the nicest trifles I've ever eaten . . .
300ml of milk (1 1/4 cups)
200ml of double cream (3/4 cup whipping cream)
freshly grated nutmeg
6 large free range egg yolks
70g caster sugar (about 1/3 cup)
Leftover Christmas pudding (It's up to you how much)
12 crisp amaretti biscuits
150ml of double cream (about 2/3 cup), whipped lightly with a dash of brandy
1 TBS Toasted Flaked almonds
Silver balls
Preheat the oven to 110*C/225*F/ gas mark 1/4. Place 6 200ml containers on a baking tray. Crumble some Christmas Pudding into the bottom of each. You can use as much as you want. I crumbled about 1 TBS of the stuff into each container, so that it was about 1/2 inch deep. Set aside.
Heat the milk and double cream together, along with a grating of nutmeg, just to the boil. Whisk the egg yolks and sugar together until pale. Whisk in the heated milk mixture, whisking constantly. Strain this mixture into the prepared pots, dividing it equally amongst them. Grate a little more nutmeg on top. Bake in the heatred oven for 30 to 40 minutes, just until set. The centre should still have a slight wobble. Remove from the oven. Cool to room temperature and then chill in the refrigerator for a couple of hours.
Just before serving, whip the cream softly along with a dash of brandy, or brandy flavouring. Crumble 2 amaretti biscuits over top of each pudding, then top with some whipped brandy cream. Sprinkle some toasted almonds and silver balls over top of each and serve.