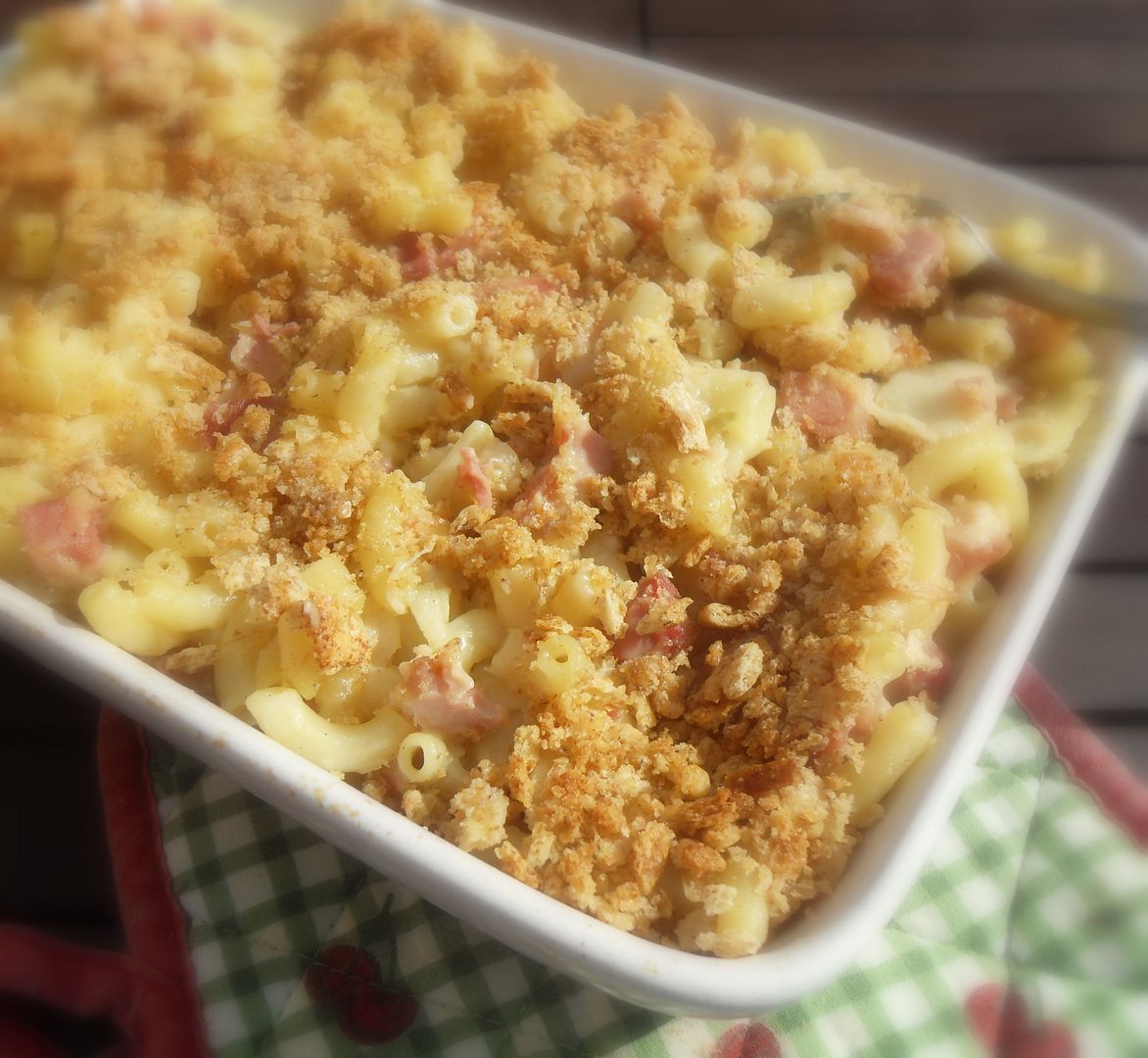 I happened to have some leftover gammon from our St Patricks Day dinner on the 17th and I needed to use it up! I don't like freezing it too much . . . it always tastes watery to me when I have done that. I prefer to use it fresh.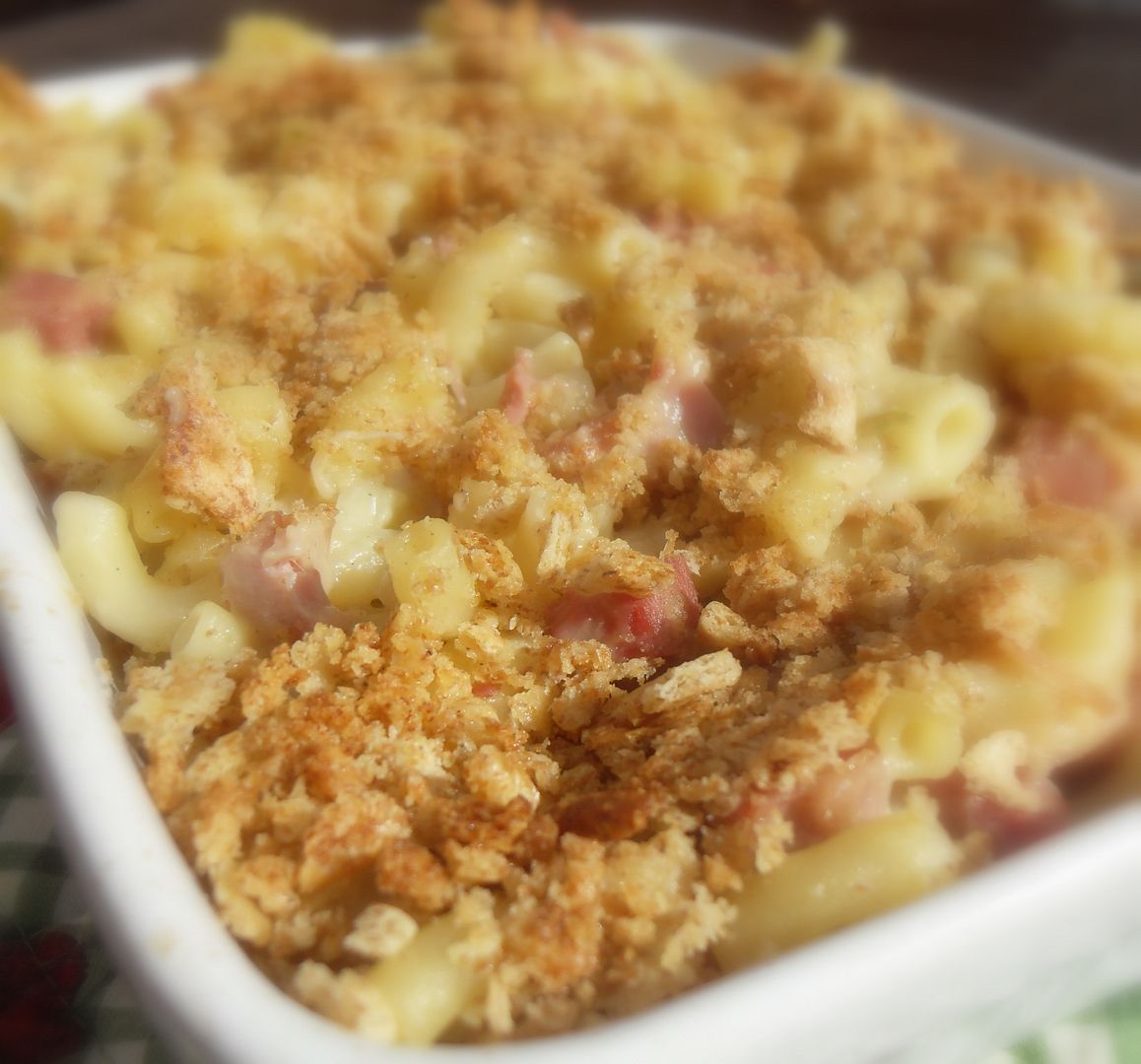 We had some one night with a tasty potato salad with a green olive and caper dressing and then the other night I made this old standby of mine.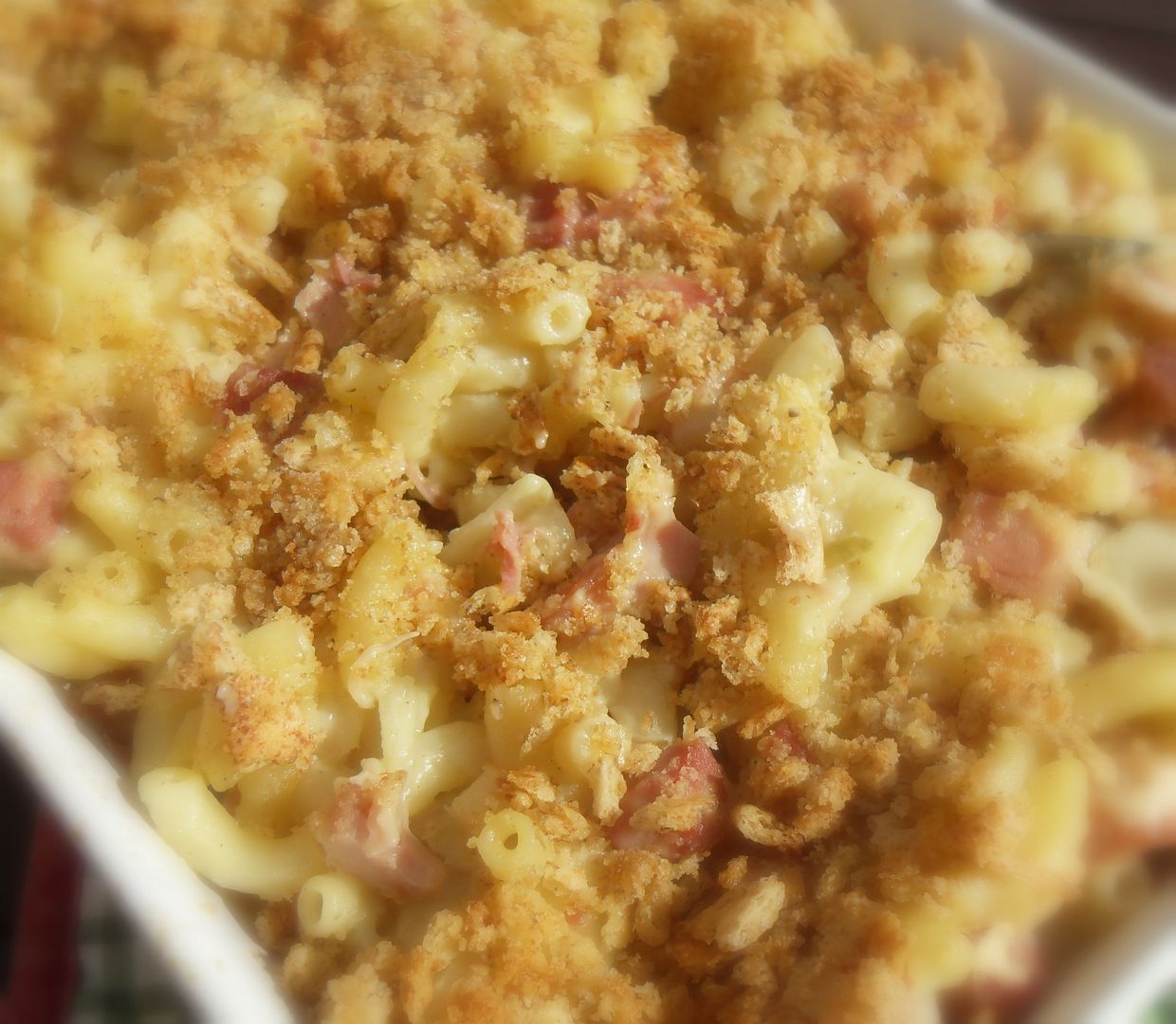 Yes, I tortured the Toddster with pasta yet again . . . he doth protest, but it doesn't stop him from going back from seconds. I think someone's telling porkie pies here, don't you?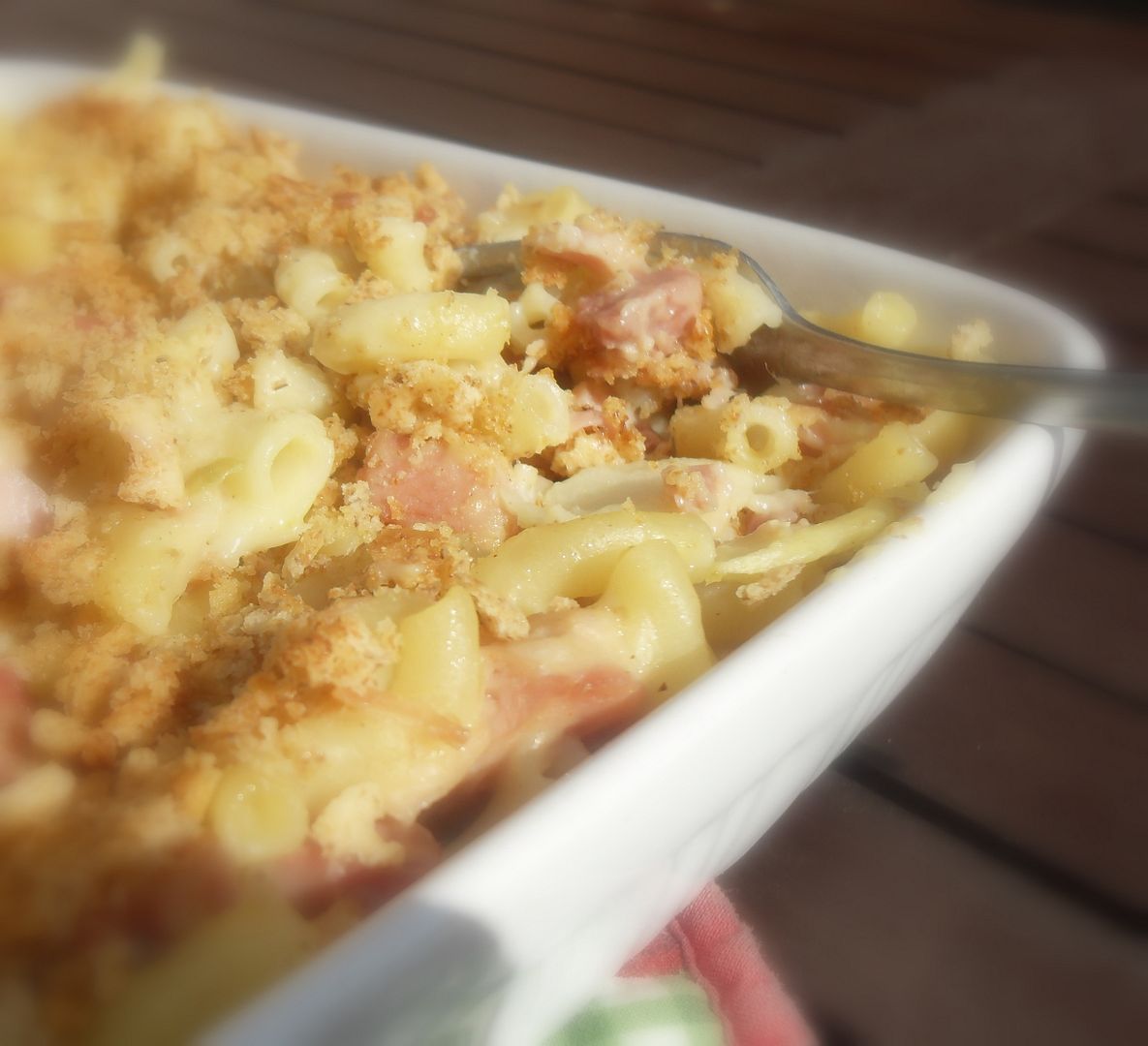 Anyways, this has long been a favourite. Smoky bits of ham and tender slices of sweet apple and macaroni in a tasty creamy mustard sauce, topped with buttered crumbs and baked until it is bubbling away and the crumbs are all scrummily crisp!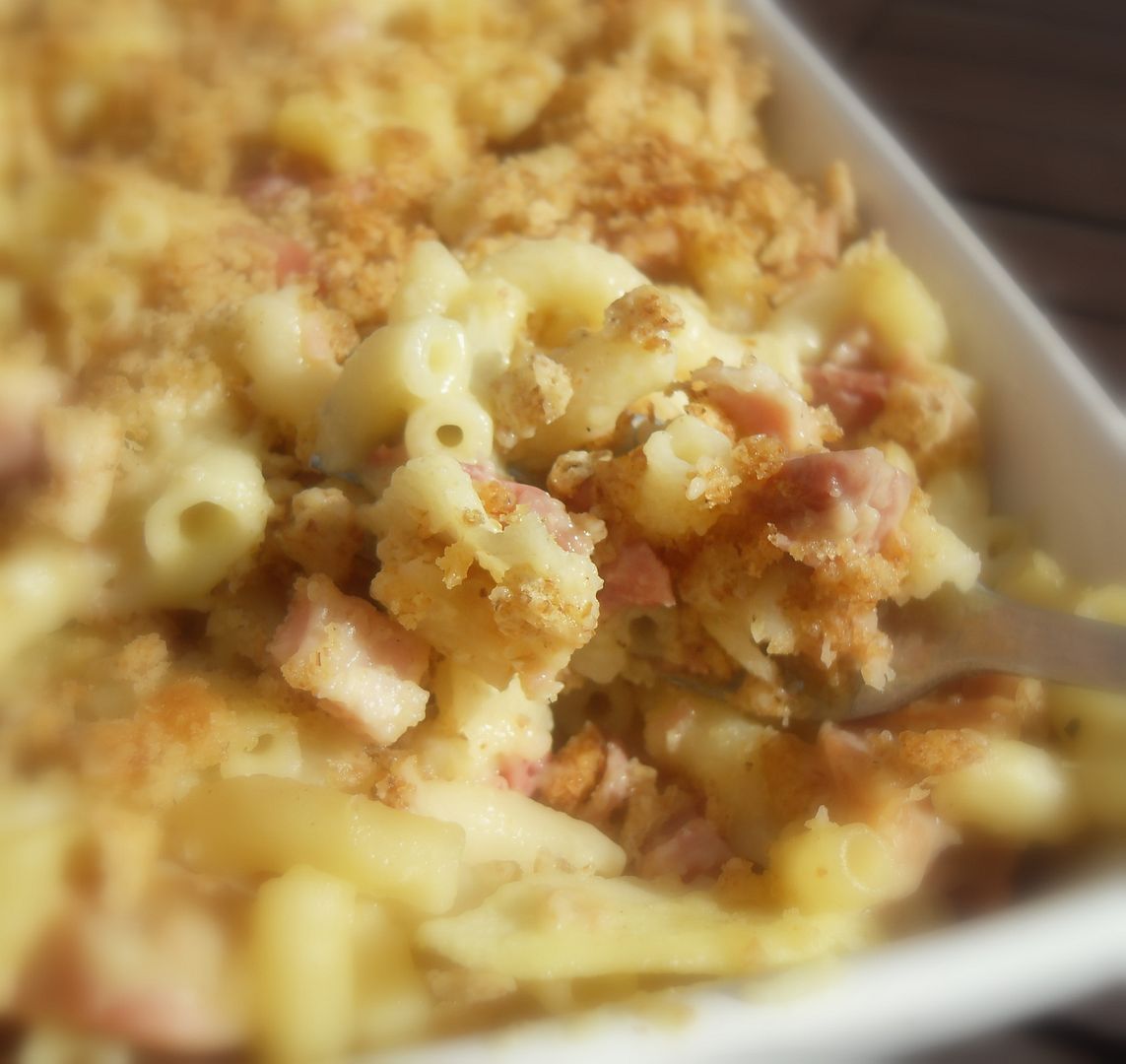 The leftovers for breakfast the next day are a guilty pleasure of mine . . . but shhhh . . . don't tell anyone! What the eye don't see . . . the heart don't grieve.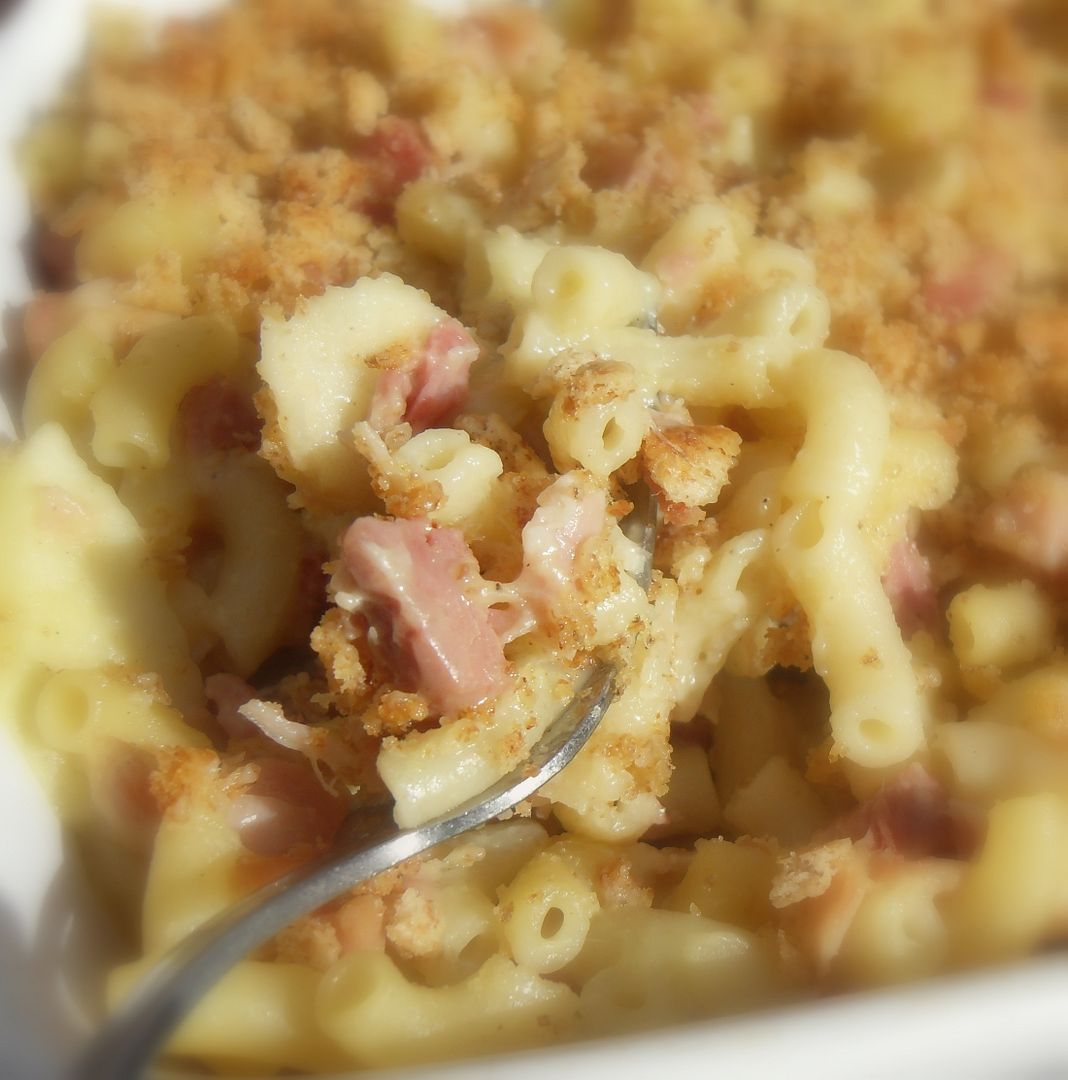 *Ham and Mac Bake*
Serves 4 to 6
Printable Recipe
This is a wonderful casserole that is not only very tasty, but also very easy on the budget as well. My children always loved it when they were growing up and it was something different to do with the ham that was leftover from Easter. I often buy a slap of ham at the shops so that I can make this as well.
1/2 pound of macaroni (1 2/3 cups)
1/4 cup butter (2 ounces)
1/4 cup flour (1.5 ounces)
2 TBS Dijon mustard
salt to taste
1/4 tsp pepper
2 cups milk (5ooml)
2 TBS soft light brown sugar, packed
2 cups cubed, fully cooked ham (about half a pound)
2 medium eating apples, peeled and thinly sliced (about 2 cups)
1 cup soft bread crumbs (about 1 1/4 slices)
2 TBS butter melted
Cook the macaroni in lightly salted boiling water until done, according to the packet directions. Drain well, rinse with cold water and drain again. Set aside until needed.
Preheat the oven to 180*C/350*F/ Gas mark 4. Melt the 1/4 cup of butter in a saucepan. Whisk in the flour and cook, stirring, for one minute over low heat. Blend in the mustard, salt, pepper and sugar. In the meantime bring the milk just to the boil. (Just until bubbles appear around the edges) Slowly whisk the heated milk into the flour mixture, cooking and stirring it until thickened, smooth and bubbly. Stir in the cooked macaroni, ham and apple slices. Turn into a greased 2 litre casserole dish.
Toss the bread crumbs with the 2 TBS butter and sprinkle evenly over top of the casserole. Bake for 30 to 35 minutes or until bubbly and lightly browned on top.